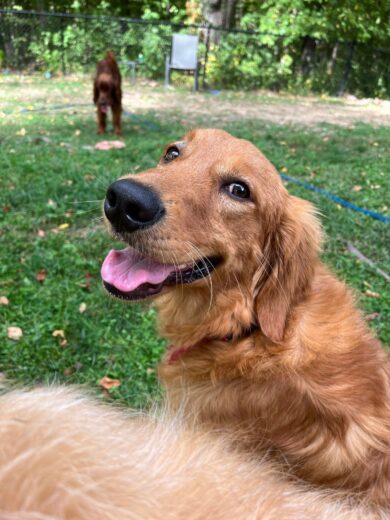 Meet Charley! Charley is approximately 10 months old, neutered, and came into GRRoIowa from a closure of a large Iowa commercial breeding operation that you may have seen in the news recently. The Animal Rescue League of Iowa took in the dogs and reached out to us to help with Charley as he was very withdrawn and definitely not thriving in a shelter setting.
Charley is not ready for adoption but we wanted to get him added to the website so you can follow his journey.
Update 11/22/23:
Wonderful Charley is growing up each day and needs to find his permanent family who can help him keep moving forward. Charley is a shy guy and would do best in a quieter home preferably with a more mature dog to provide comfort when the world gets a bit too loud and crazy. He loves our oldest Goldens as they can be calm with him.
He loves a good outside game of fetch and a fenced yard is needed but he doesn't need a competitive companion as it can be overwhelming. He is the most joyful little guy and craves petting once he comes to trust you. He is still not a happy leash walker though and it will take time for him to grow in confidence. He's content just playing at home and keeping his family company.
Update 10/29/23:
Wonderful Charley is working hard on developing new skills. The week started a bit rough with a visit to the vet for vaccination follow up. Charley is very frightened of things that he doesn't understand so he had to be crated for the trip as he is a flight risk. The visit was a bit overwhelming and he hid under a bench and faced the corner much of the time. I share this so that people can understand how scary the world is to an under socialized pup. Other than itchy ears, he's pretty healthy! After a few hours back at his foster home, he was back to playing with his dog friends.

Charley is a very shy dog with a heightened startle response. He loves his foster family but feels most comfortable being petted when outside where he has a lot of space to flee if needed.  He is the first dog to run to his foster mom's bed for hugs in the morning but is cautious when inside the rest of the day. He is simply a sweetheart but needs to continue to develop confidence.

Charley is not yet leash walking but we are working on it as his November goal. He now loves his crate at meal time and for sleeping at night. He values routine and a predictable day. We also hope that this month he might take food from our hands. Watch as he continues to get braver with time!

His eventual home will need a fenced yard and calm setting due to his tendency to startle and flee. Charley will also need a confident dog to role model for him.

Update 10/10/23:
Look at Charley carrying a toy!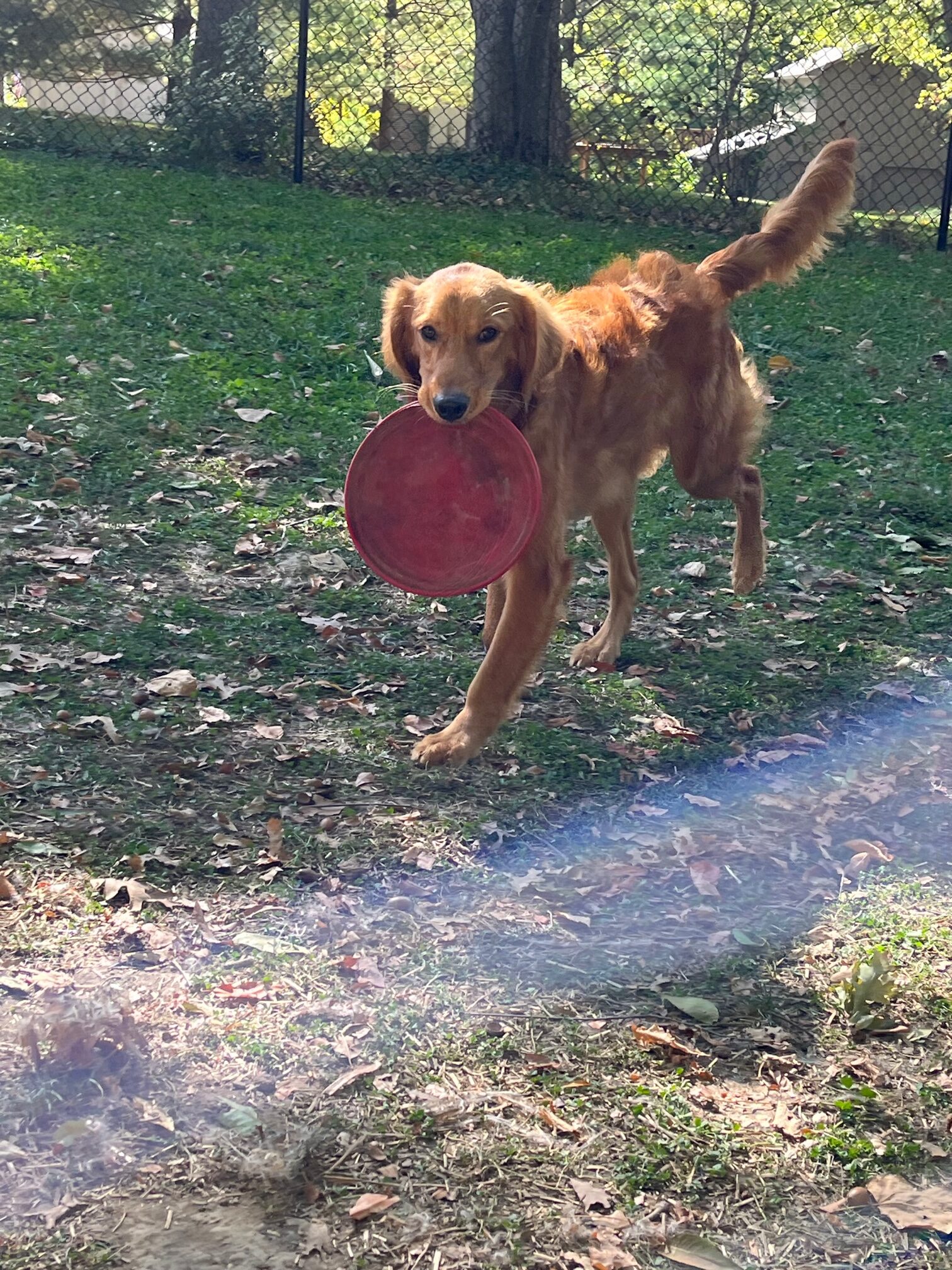 Charley is starting to interact with his environment more. Pups with Charley's background need time. He does not yet play with toys or people. And he is just beginning to seek touch from his foster family but it's hard for him to trust. We are giving him time and space to move ahead at his own pace. He is always in the room with us but often in the corner trying to be invisible or most happy when relaxing behind the wall of another dog's body. When outside, he loves running with our dogs but doesn't quite understand why they keep chasing toys that just get thrown again. And Charley frightens easily which makes sense as everything is new to him. At times he will freeze and need to be carried even if it's to have dinner in his crate. But he sure is working at getting braver!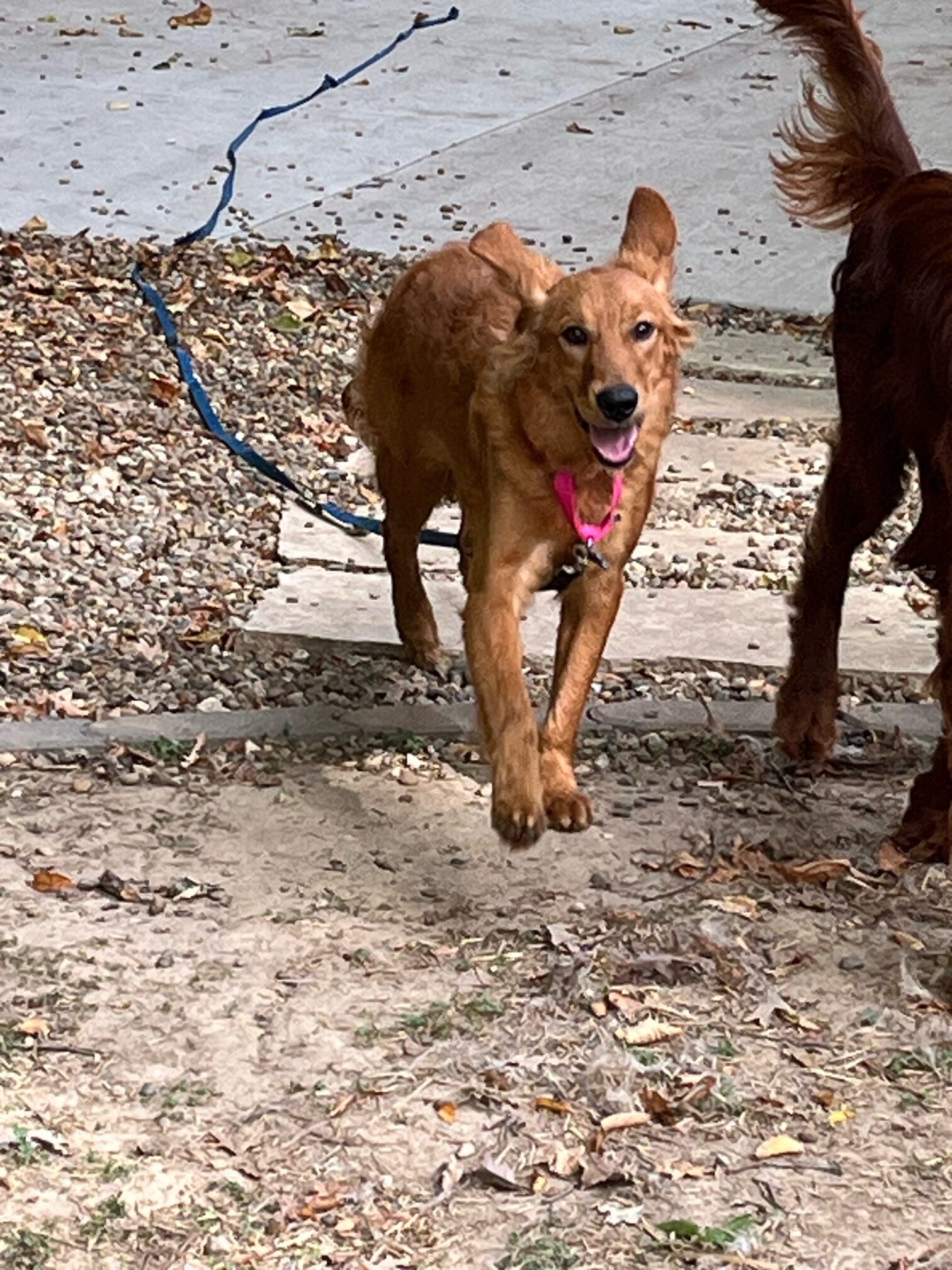 Update 10/06/23:
Charley has been with a temporary foster for two days. So far, we know that Charley is anxious and scared. He needs a fenced yard,  a confident dog to follow and then lie next to, and a
n adopter
 who has time to spend with him. He is a quiet little Golden Retriever, comfortable in a crate, settles easily (well, he may whimper a little in the beginning but doesn't bark). He learned to climb stairs today and to follow the other dogs in and out of the house. He has not had a housebreaking mistake but we are vigilant in watching him. He is flightly though and needs to be kept safe. He doesn't understand toys but he is starting to chase balls! He mostly wants to keep watch at this point. He has the makings of a real cuddler but his adopter will need to take it slowly while he learns that people can be trusted. Despite people not having been kind to him in the past, there is not a mean bone in this little guy!