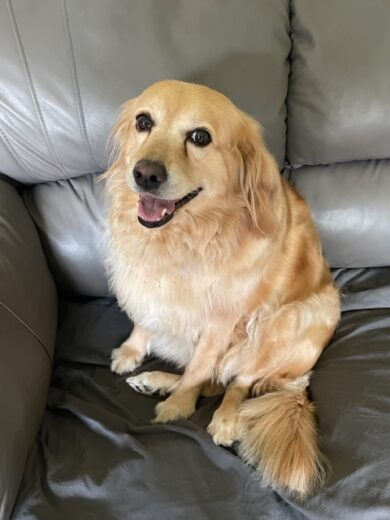 Meet Coco! She is a five year old golden retriever and cocker spaniel mix, and her foster says she is " the sweetest dog who loves, loves, loves people!" She is approximately 50 lbs and the veterinarian has suggested she needs to weigh between 35-38 lbs.
A little about Coco and her needs:
A fence is not required as long as there is a plan to keep her safe. When we are outside, she is always within 10 feet of me!
She can live with other dogs but doesn't interact with them at all. Respects them especially when they have food or a toy.
She is not tested with cats. But she is such a hunter outside (mainly for frogs! LOL) that I might be leery of having her around a cat.
She has been tested with kids ages 4 and 6 year old who love to run around screaming. She didn't understand what they were doing, so she stayed close. When they came close to us, they just stopped and talked to her. Her tail doesn't stop when she hears her name or someone is talking to her. She let them pet her with no problem. Not sure how she would be if kids were running around being kids with no adults around.
She doesn't mind crates and is fed in one with the door closed. When she first got here and I didn't know her, I kenneled her whenever I had to go anywhere. Now that she knows she is allowed on the couch, she just lays there until I come home.
Sleeps on a dog bed next to my bed because my bed is too high for her to jump onto, plus 2 of my dogs sleep with me.
Car rides make her nervous so she pants and stands most of the way. I can tell it is new for her.
Her negative things are her barking and she eats too fast! She barks when someone is at the door (which is fine by me), but goes absolutely crazy when she sees dogs or deer on the TV! She is learning she doesn't need to bark at them because as soon as she barks at the TV, she comes running to me as if to say I'm sorry for barking. LOL. She will swallow treats whole, hoping she will get another one!
Coco is scheduled for her spay surgery soon. Once she is healed from her surgery, she will be available to go to her forever home.