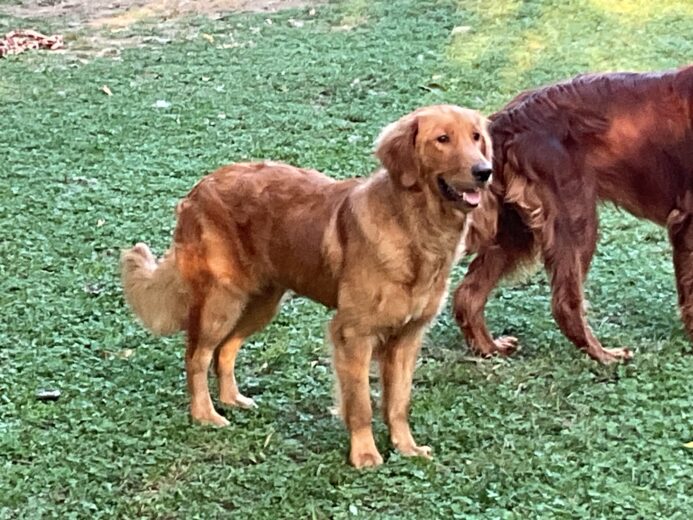 Meet Rio! He's a 9 month old purebred golden retriever who came to GRRoIowa from a breeder. He was the last in his litter and gifted to a family friend, but after a few days, he was surrendered back to the breeder. We're not sure what happened during those few days, but Rio came back fearful and skittish. The breeder asked if we could take Rio, help him learn that humans aren't so scary, and find him a loving home.
We don't know much about Rio other than his fear, but we will continue to update as we learn more about him and work on his confidence and trust.
Update 11/22/23:
Rio is ready for the right family who can help him continue to heal. Rio needs an experienced compassionate family who will understand that he's been hurt before and you must earn his trust. He loves a good hard play session and has amazing frisbee skills. New experiences still scare him a lot though. He is not the right pup for doggy daycare or dog parks but he loves racing in the back yard and then sleeping at his foster parents' feet while they work. He's a smart dog and will make someone a wonderful best friend but right now, he needs a patient owner and a confident second 
dog 
who can continue to support him while he expands his world.
Update 10/29/23:
Rio is enjoying the fall season and loves rolling in the leaves! He is definitely the dog who wants us to go outside and play with him every hour!

Rio is an active, athletic, smart dog who is going to make someone a superb companion when the time comes. I can see his pride when he struts about the yard and tells our other dogs that they are not following the rules. He has the traits of a natural leader within his own small world.

He is still working on building confidence outside of our house and yard. This week's first attempt to leash walk was not completely successful as a walk the length of three houses was filled with anxiety circle walking and pancaking on the ground in fear. But for Rio, allowing the leash to be put on and simply walking that far was quite an accomplishment and we feel optimistic about how this is moving forward. And he did take notice of the scents in the neighborhood. It'll just take time for Rio to unlearn what has happened to him in the past and to realize that there is happiness to be found beyond our fenced yard. Until he learns this, Rio is not a candidate for dog day care or dog parks. We are expanding his world a little at a time.  And he'll need a fenced yard to run as well as a confident dog sibling who likes to play.
Update 10/09/23:
Wow! Rio is celebrating an exciting milestone. Ten days straight without a housebreaking mistake! Yahoo! Mission accomplished! He's got it down!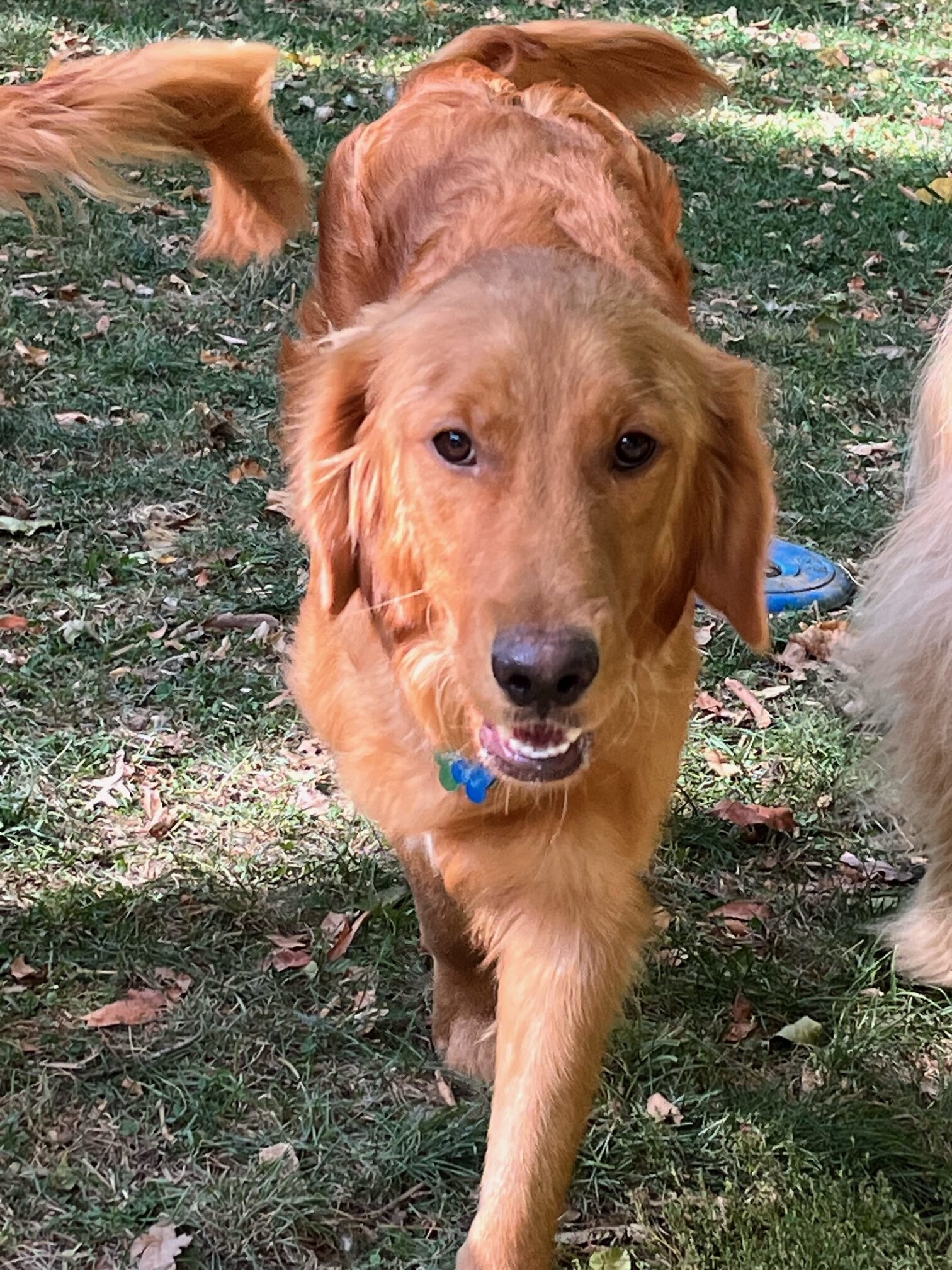 Rio also had a big week in that his new foster brother Charley has joined us and is competing for attention from his foster family (human and dog!) Rio is an exceptional big brother including being the one to lead frightened Charley into the yard and back into the house multiple times a day. They are quite a pair! What a sweet dog!
Update 10/01/23:
Rio came to GRRoIowa in July with a history that is confusing. All we knew is that he was young and not doing okay. He was ten months old and an unsold puppy whose odds of sale quickly decreased with age. Rio had a last minute placement through the breeder that did not work out and Rio no longer wanted to be near people. Something wrong had happened along the way. GRRoIowa took him in and placed him in boarding so he could be assessed and a foster home could be found. Unfortunately, he stayed in boarding due to his special needs.
Rio entered foster home care in late August after vaccinations were given, heartworm testing was done, and neutering was complete. Physically, he was doing fine. But Rio has secrets that we'll never know and mentally, he needs recovery time. He initially showed signs of limited socialization or understanding of being in a house- new experiences were terrifying and he either tried to escape or make himself as flat and small as possible. He learned to go through doors and to maneuver over staircases fairly quickly. But he was terrified when constrained by a leash or in a crate. He could not tolerate having his collar touched. He barked endlessly and destroyed things in his way. Even his anti-anxiety meds didn't help.
Rio has now been in his foster home for a full month with his foster parents. And he has come so far! He loves being petted and will initiate it but being petted can also be so hard as sudden hand movement makes him shrink in fear. We are working on touch being a good thing. He loves to run with our dogs and loves to retrieve. He knows his name and comes running when called in our fenced yard except when there are chipmunks to chase instead. He consistently takes treats from our hands and knows exactly when we should get up each morning and exactly when he should be fed. And he is no longer on medication for anxiety.
But he has so far to go. He still cannot be leashed without panicking so he cannot be walked or go for rides. He also cannot be leashed for grooming and we are working on preparing him for his first bath. He gets upset when he cannot find his best friend/ foster brother who gives him confidence.  He needs to eat in his crate with us in the room as he worries about others wanting his food. He needs to be loose in the house  with the other dogs when we leave him but he tries very hard to stay out of trouble during these times. He needs to sleep on the floor of our bedroom with the other dogs and check in at times to make sure everyone is okay. And we are still working on housebreaking.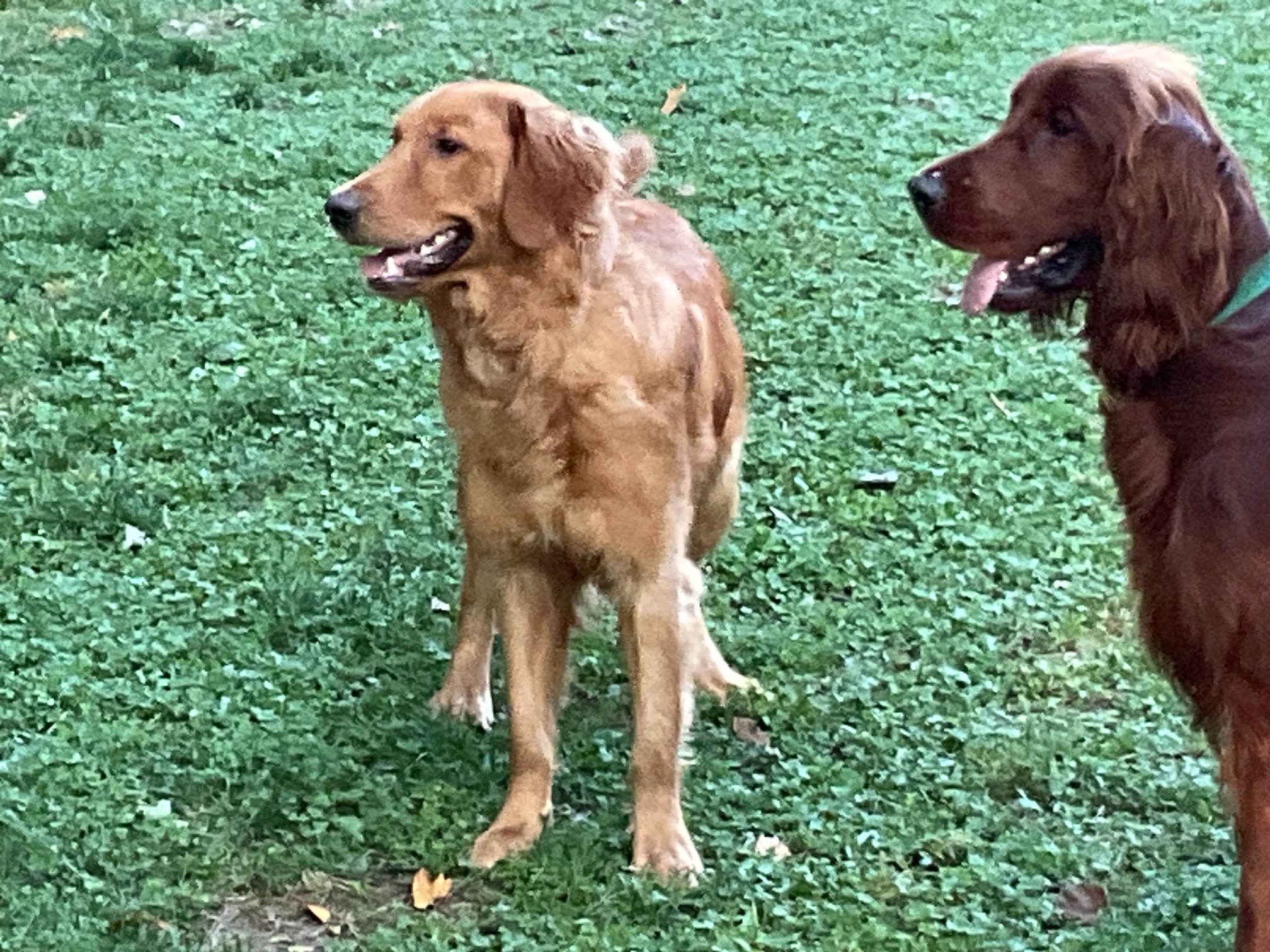 And yet Rio is a wonderful dog and the sweetest of companions. He's happy most of the time and starting to act like a healthy adolescent pup. When the time is right, he is going to make a wonderful addition to a family who will take the time to earn his trust. While he's not ready yet, he will eventually need a family with another confident dog and will do best without young children. He will need a fenced yard and an owner good at throwing both balls and frisbees. And patience.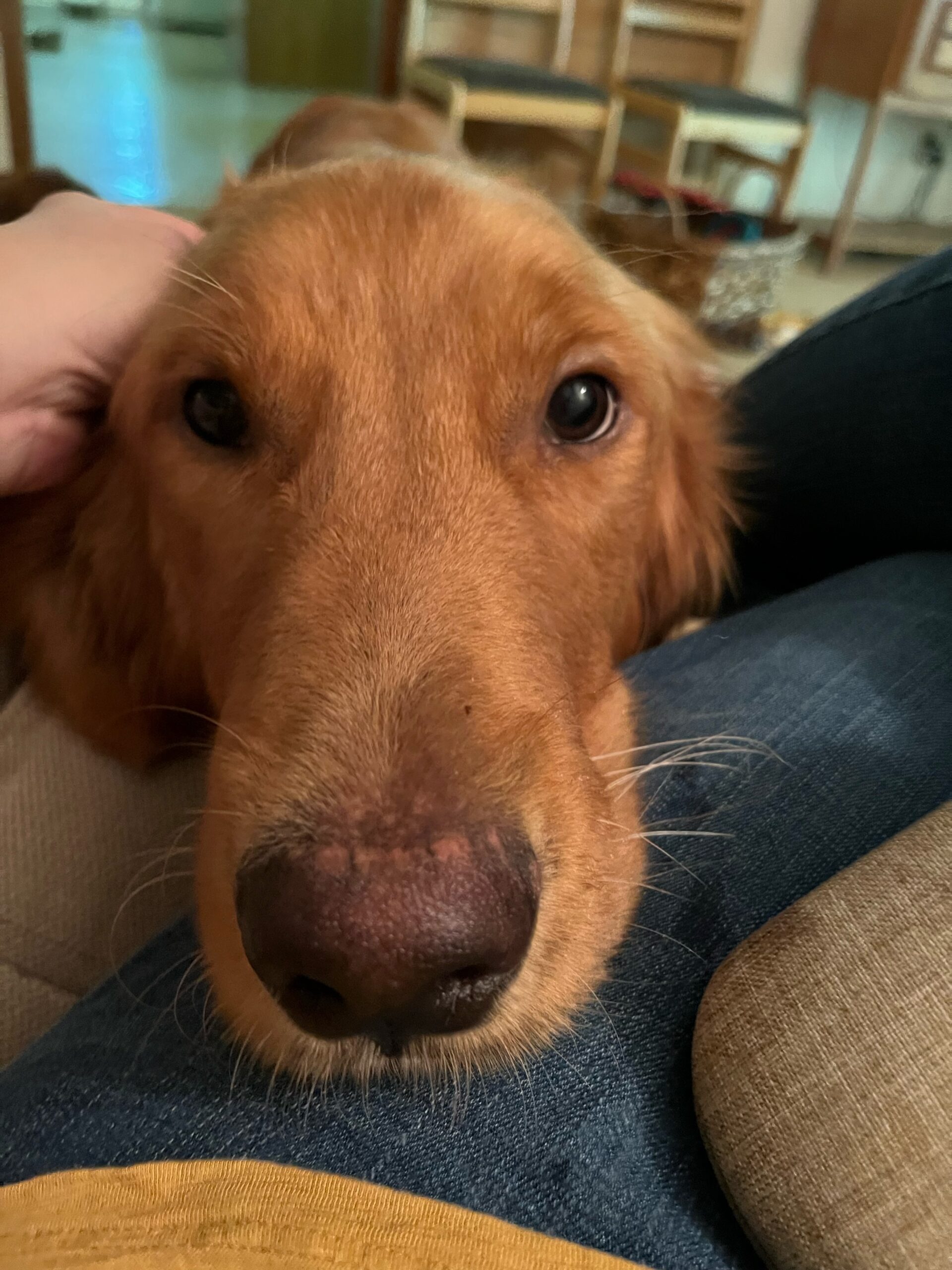 This is what Rescue should be about. Second chances and earning mutual trust. We'll keep you posted as he moves along his journey.
-Rio's foster mom